No single movie movie character has shaped taste in men's watches more than James Bond. Now, to be sure, in the movies Bond has worn some wristkitsch from time to time.
The Hamilton Pulsar P2 2900 LED watch in "Live and Let Die" (1973) was an understandable expression of high-tech enthusiasm, but all the Seikos of the 70s and 80s were just lucrative product placements. And all of the gadget watches, and Bond's spy gadgets generally, have been very appropriately satirized. Admit it—both the movies and the gadgets
could
get really silly. (Statement of disclosure: This Bond fan refuses to recognize any Bond movies not starring Connery or Craig. Well, there may be a couple of exceptions.)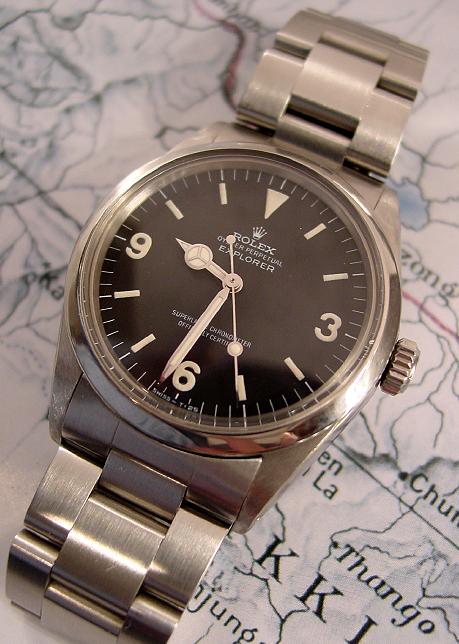 But the primeval and archetypal Bond watch was merely a functional timekeeper. It is described specifically in Ian Fleming's books as a "Rolex Oyster Perpetual Chronometer on an expanding metal bracelet." So it was a Rolex. But the rest of that description does not pin down a precise model. One watch enthusiast has recently
done some serious sleuthing
and arrived at the likely answer: a Rolex 6350 (Dress) (Proto) Explorer I. Or at least, this is most likely the watch Fleming was wearing while writing his first Bond novel, and we know Fleming closely modeled Bond on himself and other Naval Intelligence operatives he knew.
But this is not the Bond Rolex as everyone knows it. From the very first movie ("Dr. No" [1962]) Bond wears a Rolex Ref. 6538 or 5508, commonly called the Rolex Submariner. It is a professional diver's watch, really the first, depth rated for 200m. It came on a stainless steel bracelet, like most Rolexes, but in the first two Bond movies Connery wore it on a leather strap. That watch was actually the personal Rolex of director
Terence Young
. Upon arriving in Jamaica, it was discovered that Connery was wearing a white-faced dress watch, and no Rolex had been sourced by wardrobe. Bond had to wear a Rolex, so Young handed over his own watch. That simple response to exigency made his watch one of the most famous in the world of horology.
By the third movie, "Goldfinger" (1964), the Bond Rolex appears in its first close-up, sporting a new band, a gray and black NATO-style wraparound strap that is still today called a "Bond strap." These straps were commonly used in the early 60s and apparently
Connery himself
was still wearing his watch on a similar one in the 80s.
NATO "Bond" strap on Seiko SKX009



The original Bond Rolex was not a product placement, but rather a detail carried over from the books. From the 70s until today the watches appearing on Bond's wrist have been placed there at great expense to their manufacturers. The 70s Seiko digitals are of no interest to lovers of fine watches. But after a brief reappearance from Rolex, the latest Bond watches have been Omegas, either a Seamaster Professional or a Planet Ocean. While the Seamaster Pro is similar to the Rolex Submariner, the Planet Ocean in somewhat more distinctive, especially the usual orange-bezeled models. I think these are great Bond watches, and for Omega, this has been money well spent. There is no question that the iconic popularity of the Rolex Submariner has been driven enormously by its association with the world's greatest spy. I think Omega has now captured for itself a little of that magic.


Omega Seamaster Professional
Omega Planet Ocean


More on the Bond watches: